Bio-Cardio 369® (30 Packs) Supplement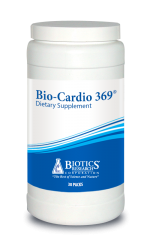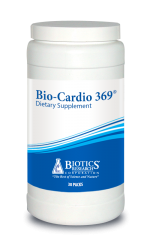 Bio-Cardio 369® (30 Packs) Supplement
Bio-Cardio 369® provides a packet of cardiovascular supportive vitamins and minerals, including CoQ10 and vitamin E, along with a combination Essential Fatty acid, providing an optimal ratio of Omega 3, 6, and 9 fatty acids.
Dosage:
One (1) pack each day as a dietary supplement or as otherwise directed by a healthcare professional.
Active Ingredients:
Vitamin A (as palmitate and natural mixed carotenoids), Vitamin C (as ascorbic acid and magnesium ascorbate), Vitamin D (as cholecalciferol), Vitamin E (as d-alpha tocopherol), Vitamin K (as phytonadione), Thiamin (B1)(as cocarboxylase chloride), Riboflavin (as riboflavin-5-phosphate), Niacin (as niacinamide), Vitamin B6 (as pyridoxal-5-phosphate), Folate (as calcium folinate), Vitamin B12 (as methylcobalamin), Biotin, Pantothenic Acid (as calcium pantothenate), Calcium (as calcium citrate), Iodine (from kelp), Magnesium (as glycinate and ascorbate), Zinc (as gluconate), Selenium (from vegetable culture†), Copper (as gluconate), Manganese (as gluconate), Chromium (from vegetable culture†), Potassium (as potassium chloride), Boron (as calcium borogluconate), Rubidium (from vegetable culture†), Vanadium (from vegetable culture†), Coenzyme Q10, N-Acetyl-L-cysteine, L-Methionine, Taurine, Purified Chondroitin Sulfates (bovine), Superoxide Dismutase (raw organic vegetable culture†), Catalase (raw organic vegetable culture†), Optimal EFAs (fish oil from anchovies and mackerel, flax seed oil, & borage oil). †Specially grown, biologically active vegetable culture containing Phytochemically Bound Trace Elements™ and naturally associated phytochemicals including polyphenolic compounds with SOD and catalase, dehydrated at low temperature to preserve associated enzyme factors.
Other Ingredients:
Capsule shell (gelatin, glycerin, & water), stearic acid (vegetable source), modified cellulose gum, and food glaze.
Product Warnings:
Caution: Not recommended for pregnant women.